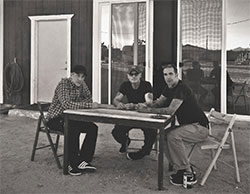 [photo by Dan Joeright]
New York City's UNSANE begin a new North American tour in support of their eighth studio full-length album, Sterilize, released in September through Southern Lord.
With their intense month-long European tour ending only one week ago, UNSANE begins another massive trek which sees them out for over a month on North American soil. The new tour begins this Thursday, December 16th with two consecutive shows in Brooklyn, after which they'll run a clockwise path of smoldering demolition throughout the US and lower Canada through December 19th, the tour ending in Philadelphia. Direct support for UNSANE will be provided in New York by Cherubs, for the following two-and-a-half weeks by Plaque Marks, and for the final eight shows with Child Bite and labelmates Big|Brave.
Stream UNSANE's entire Sterilize now at THIS LOCATION.
See a new tour trailer by Chariot Of Black Moth HERE.
Sterilize is available now through Southern Lord on CD, LP, and digital formats; find preorders and merch at Southern Lord's webshop HERE.
Closing a five-year gap since the 2012 release of the Alternative Tentacles-issued Wreck LP, UNSANE makes a vicious return with Sterilize, a record that recalls the most defining elements of the band's seminal albums, surging with their unrelenting singular sound created by guitarist/vocalist Chris Spencer, bassist/vocalist Dave Curran, and drummer Vinnie Signorelli. Sterilize showcases the group sounding as dense and damaging as ever, and sees them remaining as necessary as ever, nearly three decades since they began.
Sterilize was reviewed as Bandcamp's Album Of The Day, including, "Throughout, Dave Curran and Vincent Signorelli steamroll any rival noise-rock rhythm section into surrender. Chris Spencer's virulent riffs add to the effect, while his growled lyrics cover a whole gamut of hopelessness: misery, delusion, corporate greed, history's sick habit of repeating itself, running out of time, running out of breath, running ever towards oblivion." Noisey's feature includes that Sterilize, "continues that characteristically bloody legacy with another grisly scene front-and-center… The red splatter adorning the cover accurately matches the tone of its contents. 'Aberration' squeals with feedback and a meaty bassline by longtime member Dave Curran, while 'Inclusion' slowly grinds a steel-toed boot into the grime and viscera. For fans of the group, these ten tracks deliver the messy goods."
Exclaim! Magazine's review boasts that Sterilize is, "an intense ride through conventional rock crafted with an ugly, chaotic sense of aggression that shows the band have no plans of ending their reign over the genre… it succeeds in solidifying UNSANE's rule as the kings of noise rock." New Noise Magazine's feature states, "Sterilize is angular in dimension, with UNSANE's trademark spiral extensions billowing out from within the prism. The record is hard, completely chugging, and never shy to explore the more harrowing and circular environment it was born in. It's old-school and still utterly fresh." Invisible Oranges encourages, "Relive the glory days of extraordinarily ugly, grooving noise rock with their most angular sons," and Last Rites issues, "In the never-ending world of turmoil and shit it's always a good time to get into Unsane or expand your catalogue. Their soundtrack is prescient, falsely comforting and altogether rocking… As they say, we will get 'no reprieve.' So why worry? Relax. We're fucked."
UNSANE Tour Dates:
11/16/2017 Saint Vitus Bar – Brooklyn, NY w/ Cherubs, Buildings
11/17/2017 Saint Vitus Bar – Brooklyn, NY w/ Cherubs, Plaque Marks
11/18/2017 Ottobar – Baltimore, MD w/ Plaque Marks
11/19/2017 Strange Matter – Richmond, VA w/ Plaque Marks
11/20/2017 The Earl – Atlanta, GA w/ Plaque Marks
11/21/2017 Gasa Gasa – New Orleans, LA w/ Plaque Marks
11/25/2017 Lost Well – Austin, TX w/ Plaque Marks
11/26/2017 Ridglea Lounge – Ft. Worth, TX w/ Plaque Marks
11/28/2017 Club Congress – Tucson, AZ w/ Plaque Marks
11/29/2017 Beauty Bar – Las Vegas, NV w/ Plaque Marks
11/30/2017 Jewel Room at Union – Los Angeles, CA w/ Plaque Marks
12/02/2017 Bottom Of The Hill – San Francisco, CA w/ Plaque Marks
12/04/2017 Old Nick's – Eugene, OR w/ Plaque Marks
12/05/2017 Highline – Seattle, WA w/ Plaque Marks
12/06/2017 Cobalt – Vancouver, BC w/ Plaque Marks
12/07/2017 Tonic Lounge – Portland, OR w/ Plaque Marks
12/08/2017 Neurolux – Boise, ID w/ Plaque Marks
12/10/2017 Hi Dive – Denver, CO w/ Plaque Marks
12/12/2017 7th St Entry – Minneapolis, MN w/ Big|Brave, Child Bite
12/13/2017 Cactus Club – Milwaukee, WI w/ Big|Brave, Child Bite
12/14/2017 Grog Shop – Cleveland, OH w/ Big|Brave, Child Bite
12/15/2017 Loving Touch – Detroit, MI w/ Big|Brave, Child Bite
12/16/2017 Hard Luck Bar – Toronto, ON w/ Big|Brave, Child Bite
12/17/2017 L'Astral – Montreal, QC w/ Child Bite
12/18/2017 Great Scott – Boston, MA w/ Big|Brave, Child Bite
12/19/2017 Kung Fu Necktie – Philadelphia, PA w/ Big|Brave, Child Bite
For review copies of Sterilize,interviews with UNSANE, and coverage of the band live, in North America contact dave@earssplitcompound.com and internationally contact lauren@rarelynable.com.
http://www.unsanenyc.com
https://www.facebook.com/UNSANENYC
https://twitter.com/UNSANEnyc
http://www.southernlord.com
http://southernlord.bandcamp.com
http://twitter.com/twatterlord
https://www.facebook.com/SLadmin