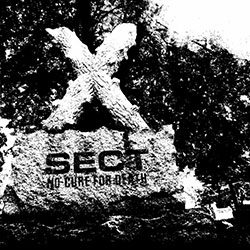 SECT shares the caustic, riotous "Stripes" through a premiere at Punktastic. The track is taken from their second album, No Cure For Death, due out through Southern Lord next Friday, November 24th. Fueled by socio-political vitriol, for SECT, the purpose of hardcore as they know it is to convey an urgency that transcends age, credentials or scene politics, to convert desperation into real talk and action.
Vocalist Chris Colohan explains the thinking behind this particular track "'Stripes' is about the prison industrial complex in overdrive and the political and penal system keeping it stocked compensating economically for the abolition of slavery, and undercutting the gains of the civil rights movement. Essentially, de facto enslavement that aims to recreate and maintain the same original racial and pecking order with the same scapegoats and victims of not just decades but centuries ago that the West was built on. It's an ugly reminder in the age of the overt white supremacist resurgence and the struggle against it that we've never yet gotten beyond that underlying foundation."
Stream SECT's "Stripes" at Punktastic RIGHT HERE.
The vegan straight edge SECT collective unites vocalist Chris Colohan (Cursed, Burning Love, Left For Dead), guitarists James Chang (Catharsis, Undying) and Scott Crouse (Earth Crisis, The Path Of Resistance), bassist Steve Hart (Day Of Suffering), and drummer Andy Hurley (Racetraitor, The Damned Things). No Cure For Death was recorded with Kurt Ballou at God City studios, mastered by Alan Douches at West West Side Music.
Footage of the recording sessions can be viewed HERE, see the band's "Day For Night" video directed by Justin Reich (Black Label Society, Crowbar, Hatebreed) HERE, and stream the song "Open Grave" HERE.
Southern Lord will release No Cure For Death on CD, LP, and digital formats on November 24th; find preoder merch bundles via Southern Lord's US webshop HERE and Euro store HERE.
SECT has also booked new live performances supporting the LP, a West Coast run through Seattle, Portland, and Vancouver November 24th through 26th, and an East Coast run through Brooklyn, Albany, and Washington DC December 8th, 9th, and 10th. Watch for additional tour dates to be announced.
SECT Tour Dates:
11/24/2017 Black Lodge – Seattle, WA
11/25/2017 Black Water – Portland, OR
11/26/2017 333 – Vancouver, BC
12/08/2017 The Kingsland – Brooklyn, NY
12/09/2017 Pauly's Hotel – Albany, NY
12/10/2017 The Pinch – Washington, DC
"the metallic hardcore is filthy and sinister, laden with a guitar tone resembling a power tool and with feedback akin to the noise one would make scraping on steel." – Exclaim!
"the video is an all-action affair that captures the intensity of both the band's performance style and the song at hand… the song sounds both massive and mean." – No Echo
"The album was produced by Converge's Kurt Ballou, so you should know what it's going to sound like already – total fucking Armageddon." – Metal Injection
For review copies of No Cure For Death and interviews with SECT in the Americas contact dave@earsplitcompound.com and in Europe contact lauren@rarelyunable.com.
https://www.facebook.com/SectXVX
http://sectxvx.bandcamp.com
http://www.southernlord.com
http://www.facebook.com/SLadmin
http://twitter.com/twatterlord
https://southernlord.bandcamp.com