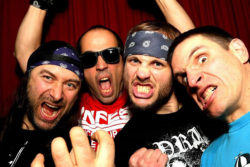 Long-running Amsterdam hardcore punk outfit VITAMIN X has issued the first single from their upcoming sixth LP, Age Of Paranoia, the band's first release for Southern Lord. The album-opening "Modern Man" has been unleashed through a premiere at No Echo alongside a brief interrogation of the band.
The newest chapter in the VITAMIN X lineage, Age Of Paranoia, was recorded by Igor Wouters at ARC Studios in Amsterdam. Packing sixteen volatile tracks into a white-knuckled twenty-eight minutes, Age Of Paranoia surges with rapid-fire punk angst packed with ripping rock leads and raised-fist gang-chant anthems. The album includes several special guest guitar solos by J. Mascis (Dinosaur Jr., Witch) and Bubba Dupree (Void, Soundgarden, Dave Grohl's Probot, Brant Bjork), and is completed with cover artwork by Marald (Baroness, Kylesa, High On Fire).
No Echo is streaming the lead track to Age Of Paranoia,
"Modern Man," of which the band states, "The lyrics are the starting point of a bigger theme; the age we're living in, is an age of confusion and paranoia… More than ever, we're controlled and affected by media, technology, mobile devices, Internet, social networks, governments, politics, climate change, pollution, fake news, etc. 'Modern Man' is a sarcastic song in which we wonder if our so-called 'progress" isn't actually 'regress.'"
Stream VITAMIN X's "Modern Man" at No Echo RIGHT HERE.
Age Of Paranoia will be released on LP, CD, and digital formats May 18th through Southern Lord; find preorders HERE. 
Watch for additional audio and video previews from the album and more to be released over the next several weeks.
Age Of Paranoia Track Listing:
15. Rock N Roll Destroyer
VITAMIN X will be performing the material from Age Of Paranoia at fests and shows throughout 2018, having already announced a spread of shows through late summer. Watch for more tour dates to be announced throughout the year.
VITAMIN X Tour Dates:
5/03/2018 N8 Lounge – Bonn, DE
5/04/2018 TBA – Antwerp, BE
5/10/2018 Mondo Bizarre – Rennes, FR
5/11/2018 Unies Sont Nos Cultures Fest – Lorient, FR
5/12/2018 TBA – Le Havre, FR
6/16/2018 Valles Escrema Fest, Montornes del Valles, SP
7/06/2018 Flugplatz – Zwickau, DE
7/07/2018 RIIP Fest – Tours, FR
7/14/2018 Woodstick Fest – Lage, DE
8/03/2018 TBA – Wroclaw, PL
8/04/2018 Novy – Jicin, CZ
8/05/2018 TBA – Bratislava, SK
9/07/2018 Chimpyfest -, London, UK
9/14/2018 Punk Rock Weekend Fest – Stockholm, SE
9/15/2018 TBA – Troisdorf, DE
VITAMIN X
has unloaded their energetic brand of rock and thrash-soaked hardcore punk since the late 1990s. Having operated through diehard DIY efforts, the band has amassed an arsenal of albums, EPs, singles, splits, and more across a wide array of underground labels, including Havoc Records, Tankcrimes, Underestimated, AgiPunk, Refuse Records, and many others. Their most recent two LPs were
recorded by Steve Albini (Nirvana, Iggy Pop, Neurosis), and their 2016-released "About To Crack" video went viral and reached more than a million views.
Well-known for their energetic and explosive live shows which attract fans from across the metal, punk, and rock spectrum, VITAMIN X has toured around the world several times, from Japan to the United States, from South America to Southeast Asia, and beyond. The band has played on MTV and many large fests including Hellfest, Maryland Deathfest, and many others, and recently toured with Baroness and Harley Flannagan's Cro-Mags.