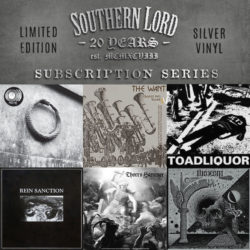 In the mid-90's, in the cold, bleak north of Seattle, Washington, two friends in their mid-20's, Greg Anderson and Stephen O Malley, were wading deep in the behemoth dirge of the Melvins, and melting into Earth's expansive, glacial-paced, guitar-based soundscapes, heavily influenced by these sounds. Greg and Stephen were playing together in Thorr's Hammer and Burning Witch, and tread their own paths after the demise of those bands, only to be brought back together in Los Angeles in 1998. In a new city, at the dawn of a new decade, the two went on to form a new band sunn O))) and launch Southern Lord Recordings with the vision of releasing recordings of these works.
On the 1st of April 1998, Southern Lord Recordings was officially established, and put out their first CD release by Thorrs Hammer, Dommedagsnatt.  20 years later, the label are marking this milestone year with the release of a limited edition, silver vinyl subscription and reissue series, which launches today. 
The label are releasing 10 records as part of the series, eight can already be revealed, The Want – Greatest Hits Vol.5 LP, Toadliquor – Discography 2xLP, Thorr's Hammer – Live at Roadburn 2010 LP,  sunn O))) – Downtown Rehearsal/Riff Tape March 1998 LP, The Secret –Lux Tenebris LP, Rein Sanction– Black album, LP. The bundles include T-Shirt, slipmat and download code with each record – find out more on the Southern Lord Store. 
Label owner Greg Anderson comments "Over the years Southern Lord has the incredible honour of releasing albums from cult legendary bands: Electric Wizard, Sleep, Magma, Unsane, Darkest Hour, Grief, Saint Vitus, BL'AST!, Winter, Wolfbrigade, Poison Idea, & Pelican as well as iconic, monumental artists: Dylan Carlson (Earth), Wino, Dave Grohl (Probot), Zakk Wylde (Zakk Sabbath),&  Josh Homme (Desert Sessions). We are extremely proud to have been a part of the developing rise of several bands who are now part of the essential fabric of the underground: Wolves In The Throne Room, Nails, Boris, & Power Trip."
Greg continues…"It is our mission to create a sanctuary for bands/artists/musicians to have their creative works released exactly as their vision was intended."