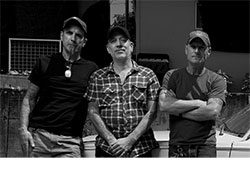 [photo by James Rexroad]
NYC's long running kings of noise rock, UNSANE, offer their eighth crushing album with Sterilize, the record set for release this Friday through Southern Lord. Advancing the album's release, Noisey has interrogated the band and is now streaming the record alongside the interview. Closing a five-year gap since the 2012 release of the Alternative Tentacles-issued Wreck LP, UNSANE makes a vicious return with Sterilize, a record that recalls the most defining elements of the band's seminal albums, surging with their unrelenting singular sound created by guitarist/vocalist Chris Spencer, bassist/vocalist Dave Curran, and drummer Vinnie Signorelli. Sterilize showcases the group sounding as dense and damaging as ever, and sees them remaining as necessary as ever, nearly three decades since they began.
Stream UNSANE's entire Sterilize now at THIS LOCATION.
Southern Lord will release Sterilize on CD, LP, and digital formats this Friday, September 29th. Find preorders and merch at Southern Lord's webshop HERE.
Days after the release of Sterilize, UNSANE will raid Europe on a massive tour that spans more than a month, running from October 5th through November 7th, including the new Southern Lord showcase in Amsterdam on October 29th alongside Magma, Sunn O))), Okkultokrati, Wolfbrigade, Circle, Big|Brave, and Vitamin X, after which the band returns stateside and embarks on the newly-announced North American tour. Leading with the two previously-announced Brooklyn shows on November 16th and 17th, twenty-four new shows have been announced, which sees UNSANE winding clockwise around the country and into Canada, the tour ending December 19th in Philadelphia.
Providing support for UNSANE, Plaque Marks will join the tour from November 17th through December 10th, Child Bite will open from December 12th through 19th, and labelmates Big|Brave will support from December 12th through 16th, as well as the 18th, and 19th.
UNSANE TOUR DATES:
10/05/2017 Futurum – Prague, CZ
10/06/2017 Hydrozagadka – Warsaw, PL
10/07/2017 Carpe Diem – Wroclaw, PL
10/08/2017 Musik & Frieden – Berlin, DE
10/10/2017 Blä – Oslo, NO
10/11/2017 Kraken – Stockholm, SE
10/12//2017 Loppen – Copenhagen, DK
10/13/2017 Hafenklang – Hamburg, DE
10/14/2017 Desertfest – Antwerp, BE
10/15/2017 Les 4Ecluses – Dunkerque, FR
10/16/2017 The Dome – London, UK
10/17/2017 Petit Bain – Paris, FR
10/18/2017 Le Cafe Charbon – Nevers, FR
10/19/2017 Rockschool Barbey – Bordeaux, FR w/ Burning Heads
10/20/2017 Astrolabe – Orleans, FR w/ Burning Heads
10/21/2017 Gaswerk – Winterthur, CH
10/23/2017 Epicerie Moderne – Lyon, FR
10/24/2017 La Razzle – Marseille, FR
10/25/2017 Circolo Magnolia – Milan, IT
10/26/2017 Benicico Live – Giavera Del Montello, IT
10/27/2017 Traffic Live Club – Rome, IT
10/28/2017 FUZZ Club – Athens, GR @ Fraternity Of Sound
10/29/2017 Melkweg – Amsterdam, NL @ Southern Lord show [info]
10/30/2017 Cinema Metropolis – Umbertide, IT
10/31/2017 Scugnizzo Liberato – Napoli, IT
11/01/2017 Freakout Club – Bologna, IT
11/02/2017 Tetris Club – Trieste, IT
11/03/2017 Arena – Vienna, AU
11/04/2017 Robot – Budapest, HU
11/05/2017 Vintage Industrial Bar – Zagreb, HU
11/06/2017 Kino Siska – Ljubljana, SL
11/07/2017 PMK – Innsbruck, AT
11/16/2017 Saint Vitus Bar – Brooklyn, NY w/ Cherubs, Buildings [info]
11/17/2017 Saint Vitus Bar – Brooklyn, NY w/ Cherubs, Plaque Marks [info]
11/18/2017 Ottobar – Baltimore, MD w/ Plaque Marks
11/19/2017 Strange Matter – Richmond, VA w/ Plaque Marks
11/20/2017 The Earl – Atlanta, GA w/ Plaque Marks
11/21/2017 Gasa Gasa – New Orleans, LA w/ Plaque Marks
11/25/2017 Lost Well – Austin, TX w/ Plaque Marks
11/26/2017 Ridglea Lounge – Ft. Worth, TX w/ Plaque Marks
11/28/2017 Club Congress – Tucson, AZ w/ Plaque Marks
11/29/2017 Beauty Bar – Las Vegas, NV w/ Plaque Marks
12/02/2017 Bottom Of The Hill – San Francisco, CA w/ Plaque Marks
12/04/2017 Old Nick's – Eugene, OR w/ Plaque Marks
12/05/2017 Highline – Seattle, WA w/ Plaque Marks
12/06/2017 Cobalt – Vancouver, BC w/ Plaque Marks
12/07/2017 Tonic Lounge – Portland, OR w/ Plaque Marks
12/08/2017 Neurolux – Boise, ID w/ Plaque Marks
12/09/2017 Diabolical Records – Salt Lake City, UT w/ Plaque Marks
12/10/2017 Hi Dive – Denver, CO w/ Plaque Marks
12/12/2017 7th St Entry – Minneapolis, MN w/ Big|Brave, Child Bite
12/13/2017 Cactus Club – Milwaukee, WI w/ Big|Brave, Child Bite
12/14/2017 Grog Shop – Cleveland, OH w/ Big|Brave, Child Bite
12/15/2017 Loving Touch – Detroit, MI w/ Big|Brave, Child Bite
12/16/2017 Hard Luck Bar – Toronto, ON w/ Big|Brave, Child Bite
12/17/2017 L'Astral – Montreal, QC w/ Child Bite
12/18/2017 Great Scott – Boston, MA w/ Big|Brave, Child Bite
12/19/2017 Kung Fu Necktie – Philadelphia, PA w/ Big|Brave, Child Bite
Review copies of Sterilize and interviews with UNSANE are now available. For coverage in North America contact dave@earssplitcompound.com and internationally contact lauren@rarelynable.com.
http://www.unsanenyc.com
https://www.facebook.com/UNSANENYC
https://twitter.com/UNSANEnyc
http://www.southernlord.com
http://southernlord.bandcamp.com
http://twitter.com/twatterlord
https://www.facebook.com/SLadmin