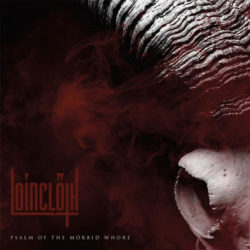 Psalm Of The Morbid Whore, the final call to worship by Virginia/North Carolina-based instrumental metal cult LOINCLOTH, is now streaming in its entirety at Noisey, as the LP is prepared for its official release this Friday through Southern Lord. The advance album stream is joined by an in-depth interrogation with the band.
Packing nine new passages into a half-hour assault on Psalm Of The Morbid Whore, white-knuckled twists wrench in one's gut like a rusted blade, though the by-the-throat percussive attack and tonal attributes are already enough to suffocate the listener. As with their 2012-released Southern Lord debut LP, Iron Balls Of Steel, LOINCLOTH returned to Pershing Hill Sound in Raleigh, North Carolina to record with Greg Elkins, while mastering was handled by Brad Boatright (Sleep, Corrosion Of Conformity, Sunn O))), Obituary) at Audiosiege. Join LOINCLOTH in their final hour of worship.
Noisey interrogated LOINCLOTH about the band's final album and more, describing the band as, "the Southern Lord-backed instrumental quartet who specializes in impenetrably dense acrobatics marked by sinew, economy, and hypercomplex time signatures that consistently avoid baroque frills and cartoonish machismo."
Stream LOINCLOTH's Psalm Of The Morbid Whore at Noisey RIGHT HERE.
Also hear the previously-released "Ibex (To Burn In Hell Is To Refine)" at Alternative Press HERE.
Psalm Of The Morbid Whore will see digital and vinyl release through Southern Lord this Friday, September 29th; find preorders at the Southern Lord webshop HERE and Bandcamp HERE.
LOINCLOTH is a culmination of years of worshiping at the altar of the riff. Psalm Of The Morbid Whore arrives with the promise of absolute pummel! Guitarist Tannon Penland and drummer Steve Shelton (Confessor) return with their twisted brand of instrumental metal on the forthcoming Psalm Of The Morbid Whore, this time around also enlisting the infernal hands of Tomas Phillips on bass, who collaborated with Penland in experimental outfit Gauchiste for their self-titled 2012's release through Little Black Cloud Records. Penland, Shelton, and Phillips were joined by guitarist Craig Hilton who contributed to composition and live sonic assaults on tour with Sunn O))) and at festivals from Barcelona's Day OF Doom and Power Of The Riff in Los Angeles, to Richmond's GWAR-B-Q.
For review copies of Psalm Of The Morbid Whore and interviews with LOINCLOTH in North and South America contact dave@earsplitcompound.com and in Europe contact lauren@rarelyunable.com.
http://www.facebook.com/pages/Loincloth/266521466700945
http://www.southernlord.com
http://www.southernlord.bandcamp.com
http://www.facebook.com/SLadmin
http://www.twitter.com/twatterlord