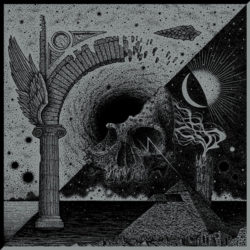 Lux Tenebris, the first new material from Italy's THE SECRET in six years, will see release next week through Southern Lord, and Invisible Oranges is now streaming the scathing EP in its entirety
THE SECRETends the extensive period of decay since their 2012-released Agnus Dei LP with Lux Tenebris, the EP delivering the most oppressive, blackened scourge from the band yet. Following three years without communication between members, the band regrouped under the same roof for the first time since 2015 to record this three-song act in sonic exploration of the theme of the sepulchre.
With their advance stream of the EP, Invisible Oranges offers in part, "The three songs on Lux Tenebrisare the first from the band since 2012's Agnus Dei and as such they serve as more of a reintroduction to THE SECRET than a continuation of their previous releases… THE SECRET are a more patient band in 2018, but only in their willingness to let parts develop at a steadier pace. If anything, their raw speed has increased."
Stream THE SECRET's Lux Tenebris EP at Invisible Oranges RIGHT HERE.
Southern Lord will issue
THE SECRET
's
Lux Tenebris
as part of the label's special twentieth anniversary subscription series on August 31st with a small portion of the pressing to be available via label direct mailorder. The 12″ vinyl pressing bears the three tracks on the A-side, with a silkscreened B-side; the EP will also be released on all digital platforms. Find preorders at the label webstore
HERE
, European store
HERE
, and Bandcamp
HERE
.
The twenty-minute Lux Tenebris EP sees THE SECRET abandoning the minimalistic approach of the previous two albums, the band expanding its sound by adding more layered and textural guitar work to the primordial destructive aggression that distinguished the Solve Et Coagula and Agnus Dei LPs. While still physical and confrontational, these songs show no concern for mortality and forget time and deterioration, creating new room for resonation and atmosphere. Lux Tenebris is an ode to the eternal night suspended beyond life and death. The signature sound of the band is pushed to its extreme by further developing the black metal and doom influences reminiscent of Southern Lord mid-2000s catalog, showcasing THE SECRET as one of Italy's undeniably darkest bands in existence once again. Lux Tenebris was recorded by Steve Scanu and mastered by Brad Boatright at Audiosiege and completed with a cover illustration and layout by View From The Coffin.