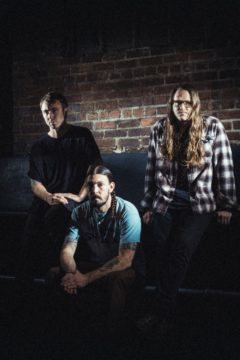 Los Angeles-based rock trio THE PRIMALS – founded by vocalist/guitarist John Henry (also of Darkest Hour), bassist Chad Fjerstad (formerly of Dead To Fall), and drummer Andrew Black (formerly of The Explosion) – has shared a new video for the track "Hello Cruel World," through a premiere at Louder Than War. The new video hits as the band announces November tour dates with Cave In and Helms Alee.
"Hello Cruel World" is found on THE PRIMALS' debut album All Love Is True Love, out now on Southern Lord. Featuring ten infectious tracks produced by John Reis (Rocket From The Crypt, Drive Like Jehu, Hot Snakes) and completed with cover art by Laura K. Giron, the band's fuzzy execution is equal slabs ripping guitar heaviness and infectious pop sensibility on All Love Is True Love. Concocted by a seasoned group of thrashers with a historical backbone in the D.C. punk community, the disintegrated spirit of grunge rises from the ashes, revitalized in a new light.
The footage from THE PRIMALS' "Hello Cruel World" video was gathered during the band's debut visit to Europe earlier this year.
See THE PRIMALS' official video for "Hello Cruel World" at Louder Than War RIGHT HERE.
Stream All Love Is True Love HERE and see the prior video for "Fortune & Sons" HERE.
All Love Is True Love is out now through Southern Lord on CD, LP, and digital platforms, available at the US label webshop HERE, the European webshop HERE, and at Bandcamp HERE.
THE PRIMALS will join Helms Alee supporting Cave In on a West Coast US tour this fall. The tour begins in Houston on November 8th and runs through Dallas, Austin, Mesa, San Diego, Anaheim, Los Angeles, San Francisco, Portland, and Seattle through November 19th. Watch for additional tour dates to be announced.
THE PRIMALS w/ Cave In, Helms Alee:
11/08/2019 White Oak Music Hall – Houston, TX
11/09/2019 Club Dada – Dallas, TX
11/10/2019 Parish – Austin, TX
11/12/2019 The Nile – Mesa, AZ
11/13/2019 Soda Bar – San Diego, CA
11/14/2019 Chain Reaction – Anaheim, CA
11/15/2019 The EchoPlex – Los Angeles, CA
11/16/2019 Slim's – San Francisco, CA
11/18/2019 Star Theater – Portland, OR
11/19/2019 El Corazon – Seattle, WA
For coverage of THE PRIMALS in The Americas contact dave@earsplitcompound.com and internationally contact lauren@rarelyunable.com.
https://www.facebook.com/ThePrimalsLA
https://theprimalssl.bandcamp.com/releases
http://www.southernlord.com
http://southernlord.bandcamp.com
http://www.facebook.com/SLadmin
http://twitter.com/twatterlord