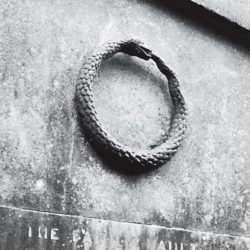 SUNN O))) has unleashed the earliest recording of the band's monolithic tones, revamped for a limited edition pressing via Southern Lord Recordings, as the label celebrates its twentieth anniversary, as a split label release together with Stephen O'Malley's Ideologic Organ imprint.
The Downtown LA Rehearsal/Rifftape March 1998 dates back to the earliest rehearsals during the genesis of the SUNN O))) project. The source is a C60 cassette tape recorded on a boombox, and the result is essentially an extremely raw noise/drone record. It was taped in the band's early practice space at Downtown Rehearsal (RIP), Los Angeles, in a practice room which the band shared with The Melvins and Goatsnake at the time. The LP sees SUNN O))) founders Greg Anderson and Stephen O'Malley on guitars and stacks of amps, the original cassette was mastered by Brad Boatright February 2018.
Longtime/old school diehard listeners of SUNN O)))'s massive sound and those who have watched the collective's transformation over the past two decades can find the brutal practice tape revamped as Downtown LA Rehearsal/Rifftape March 1998, available only through Southern Lord and directly from the band in a limited run on 180-gram vinyl LP – 900 black, 500 silver, 100 white, with machine numbering on the front cover – and digitally.
Find SUNN O)))'s Downtown LA Rehearsal/Rifftape March 1998 at Bandcamp HERE and find more purchase options at the band's webshop HERE.
Downtown LA Rehearsal/Rifftape March 1998 Track Listing:
Side A:
1. Room 206 pt.1
2. Room 206 pt.2
3. B-Witch
Side B:
1. Room 206 pt.3
2. The Grimm Robe / Black Wedding
3. Mustaine / Thorns
4. M & D I.L.F.
5. The DJs
The celebration of twenty years of SUNN O))) and Southern Lord this year will continue with reissues of the band's lauded White1 and White2 albums in the coming weeks.
SUNN O))) will perform live at the Psycho Las Vegas festival on August 19th alongside Godflesh, Goblin, Enslaved, All Pigs Must Die, Wolves In The Throne Room, and scores more.
Watch for further updates on SUNN O))) in the coming days.
SUNN O))) Live:
8/19/2018 Hard Rock Hotel & Casino – Las Vegas, NV @ Psycho Las Vegas [info]
For coverage of SUNN O))) in The Americas contact dave@earsplitcompound.com, all others contact lauren@rarelyunable.com.
https://sunn.southernlord.com
https://www.instagram.com/sunnofficial
https://www.facebook.com/SUNNthebandOfficial
https://sunn.bandcamp.com
https://sunn-live.bandcamp.com
http://www.southernlord.com
http://southernlord.bandcamp.com
http://twitter.com/twatterlord
https://www.facebook.com/SLadmin
https://www.instagram.com/southernlordrecords