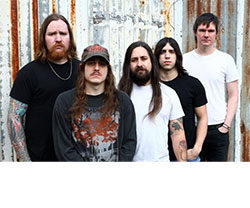 Nightmare Logic has taken POWER TRIP's classic Exodus-meets-Cro-Mags sound to new places. With hooks and tightness rivaling greats like Pantera or Pentagram and production by the esteemed Arthur Rizk, Nightmare Logic punishes fans not only sonically but with pure songwriting skill. The sophomore release and second on Southern Lord Records, raises the bar and pushes POWER TRIP to new extremes. Since 2013's Manifest Decimation, the band admits they've not only gotten better at their instruments, but have also reinvented their songwriting process into a more nuanced and clever system. The shift shows on this record and does so without losing any of the aggression so essential to the band.
Nightmare Logic is out February 24th on Southern Lord. Preorders for the album are now available at THIS LOCATION.
Stream "Executioner's Tax (Swing Of The Axe)" RIGHT HERE.
Hear the previously-released "Firing Squad" HERE.
POWER TRIP hits the road again next month in support of the album. In addition to an East Coast run with Iron Reagan and others, the band has extended the tour up and down the West Coast with Destruction Unit and many more.

POWER TRIP 2017 TOUR DATES:
2/24/2017 Walter's – Houston, TX w/ Iron Reagan
2/25/2017 Siberia – New Orleans, LA w/ Iron Reagan
2/26/2017 Saturn – Birmingham, AL w/ Iron Reagan
2/27/2017 Kings – Raleigh, NC w/ Iron Reagan, Genocide Pact
2/28/2017 Broadberry – Richmond, VA w/ Iron Reagan, Genocide Pact, Concealed Blade
3/01/2017 Soundstage – Baltimore, MD w/ Iron Reagan, Genocide Pact, Concealed Blade
3/02/2017 Marlin Room @ Webster Hall – New York, NY w/ Iron Reagan, Concealed Blade, Krimewatch
3/03/2017 Spirit – Pittsburgh, PA w/ Iron Reagan, Concealed Blade, Protestor
3/04/2017 Now That's Class – Cleveland, OH w/ Iron Reagan, Concealed Blade, Protestor
3/05/2017 The Studio @ Waiting Room – Buffalo, NY
3/07/2017 ONCE Ballroom – Somerville, MA w/ Iron Reagan
3/08/2017 Les Foufounes Électriques – Montreal, QC w/ Iron Reagan
3/09/2017 Brass Monkey – Ottawa, ON w/ Iron Reagan
3/10/2017 Velvet Underground – Toronto, ON w/ Iron Reagan
3/11/2017 Marble Bar – Detroit, MI w/ Iron Reagan
3/12/2017 Reggies – Chicago, IL w/ Iron Reagan, Call Of The Void
3/13/2017 Triple Rock – Minneapolis, MN w/ Iron Reagan, Call Of The Void
3/14/2017 Vaudeville Mews – Des Moines, IA w/ Iron Reagan, Call Of The Void
3/16/2017 Riot Room – Kansas City, MO w/ Iron Reagan
3/17/2017 89th Street Collective – Oklahoma City, OK w/ Iron Reagan
3/25/2017 The Mohawk – Austin, TX w/ Iron Age, Glue, The Real Cost
3/26/2017 South by So What? – Dallas, TX
3/27/2017 Sister – Albuquerque, NM w/ Destruction Unit, Primal Rite
3/28/2017 Marquis Theater – Denver, CO w/ Destruction Unit, Call Of The Void, Primal Rite
3/29/2017 Beehive Social Club – Salt Lake City, UT w/ Destruction Unit, Primal Rite
3/30/2017 WavePOP House – Boise, ID w/ Destruction Unit, Primal Rite
3/31/2017 Real Art Tacoma-The Deal – Tacoma, WA w/ Destruction Unit, Primal Rite. Gag
4/01/2017 Astoria – Vancouver, BC w/ Destruction Unit, Primal Rite, Gag
4/02/2017 Analog Theater – Portland, OR w/ Destruction Unit, Gag
4/04/2017 Arlene Francis Center – Santa Rosa, CA w/ Destruction Unit, Mizery
4/06/2017 The New Parish – Oakland, CA w/ Destruction Unit, Primal Rite, Mizery
4/07/2017 The Ritz – San Jose, CA w/ Destruction Unit, Mizery,
4/08/2017 Teragram Ballroom – Los Angeles, CA w/ Destruction Unit, Mizery
4/10/2017 The Casbah – San Diego, CA w/ Destruction Unit, Mizery
4/11/2017 Rebel Lounge – Phoenix, AS w/ Destruction Unit, Mizery, Gatecreeper
4/12/2017 Club Congress – Tucson, AZ w/ Destruction Unit, Mizery, Gatecreeper