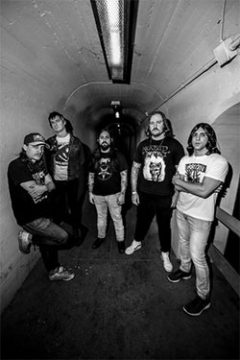 Hailing from Dallas, POWER TRIP's raw energy, musical proficiency, perfect song structure, rich tones, fierce riffs, persecution, and collective attitude has seeded them as one of the most prolific staples in the metal, punk and hardcore scenes. Nightmare Logic was produced by Arthur Rizk, engineered by Arthur Rizk and Matthew Barnhart, and mastered by Joel Grind.
Hear POWER TRIP's first single from Nightmare Logic, "Firing Squad," streaming HERE.
POWER TRIP was just declared the winner of Best Hardcore Act 2016 in Dallas Observer's Music Awards.
POWER TRIP Tour Dates:
1/04/2017 RBC – Dallas, TX w/ Antwon
1/05/2017 Barracuda – Austin, TX @ This Is Austin, Not That Great Festival w/ Antwon
2/24/2017 Walter's – Houston, TX w/ Iron Reagan
2/25/2017 Siberia – New Orleans, LA w/ Iron Reagan
2/26/2017 Saturn – Birmingham, AL w/ Iron Reagan
2/27/2017 Kings – Raleigh, NC w/ Iron Reagan, Genocide Pact
2/28/2017 Broadberry – Richmond, VA w/ Iron Reagan, Genocide Pact, Concealed Blade
3/01/2017 Soundstage – Baltimore, MD w/ Iron Reagan, Genocide Pact, Concealed Blade
3/02/2017 Marlin Room @ Webster Hall – New York, NY w/ Iron Reagan, Concealed Blade, Krimewatch
3/03/2017 Spirit – Pittsburgh, PA w/ Iron Reagan, Concealed Blade, Protestor
3/04/2017 Now That's Class – Cleveland, OH w/ Iron Reagan, Concealed Blade, Protestor
3/08/2017 Les Foufounes Électriques – Montreal, QC w/ Iron Reagan
3/09/2017 Brass Monkey – Ottawa, ON w/ Iron Reagan
3/10/2017 Velvet Underground – Toronto, ON w/ Iron Reagan
3/11/2017 Marble Bar – Detroit, MI w/ Iron Reagan
3/12/2017 Reggie's – Chicago, IL w/ Iron Reagan
3/13/2017 Triple Rock – Minneapolis, MN w/ Iron Reagan
3/14/2017 Vaudeville Mews – Des Moines, IA w/ Iron Reagan
3/16/2017 Riot Room – Kansas City, MO w/ Iron Reagan
3/17/2017 89th Street Collective – Oklahoma City, OK w/ Iron Reagan
3/25-26/2017 South by So What? – Dallas, TX
3/31-4/02/2017 Spokane Hardcore Fest – Spokane, WA w/ Destruction Unit, Primal Rite