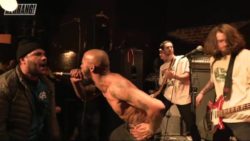 Philadelphia hardcore outfit JESUS PIECE is the maiden act to perform at the US version of Kerrang! Magazine's K! Pit series, and the visual evidence of this occurrence is now online.
JESUS PIECE released their acclaimed Only Self LP through Southern Lord in August 2018, the album recorded at Bricktop Recording Studio in Chicago with Andy Nelson (Weekend Nachos, Like Rats, Dead In The Dirt), mastered by Brad Boatright at Audiosiege (Integrity, Nails, Xibalba), and completed with artwork by Dom Pabon. With a smoldering reputation in the underground in their wake, the LP pushed the band into another dimension. One of the year's most lauded hardcore albums showed up on year-end lists across the board, boundaries be damned. The album has ranked with the year's heaviest hardcore releases and appeared on year-end lists abroad, including being crowned the #1 hardcore album of 2018 by Stereogum. Surrounding the release of the Only Self LP, JESUS PIECE has toured mercilessly alongside Darkest Hour, Comeback Kid, Burn, Knocked Loose, Terror, Vein, Year Of The Knife, and many more across North America, Europe, and Japan.
Kerrang! Magazine's stateside staff has launched a US version of the London-based K! Pit series, and its maiden act, was JESUS PIECE. With a limited number of tickets given to fans who took part in an online lottery, a collective of diehards gathered at an undisclosed venue in Brooklyn to watch this metallic hardcore superforce do its thing in an intimate, immersive way, with several local, embedded videographers, as well as an array of mounted cameras, catching the action.
Kerrang! says, "…we decided to move 3,500 miles away to Brooklyn for our first-ever American K! Pit, featuring blistering Philadelphian hardcore upstarts JESUS PIECE. In a storm of grinding riffs and flying limbs, the band blasted their way through the back room of our favorite Brooklyn dive bar, The Gutter, whipping the crowd into an uncontrollable frenzy of spin-kicks and gang vocals that shook the rafters around them."
See JESUS PIECE and friends in an up-close multi-angle experience RIGHT HERE.
JESUS PIECE is quickly developing a reputation as one of the heaviest, most uncompromising acts both on record and on the stage. With the brutalizing grooves of Disembodied, Turmoil, Harm's Way, and labelmates Xibalba, the band incorporates elements of noise, ominous tones, and haunting atmospheres into their dynamic songwriting. With crushing, modern production, the eleven new tracks on their Only Self debut LP place JESUS PIECE among the scene's darkest and heaviest acts.
Only Self is out now on CD, LP, and digital formats through Southern Lord. Find physical order options at the label shop HERE and digital at Bandcamp HERE, iTunes HERE, and through all other digital providers.
Watch for more on JESUS PIECE in the coming weeks.
For coverage of JESUS PIECE in The Americas contact dave@earsplitcompound.com and internationally contact lauren@rarelyunable.com.
https://twitter.com/jesuspiecehc
https://www.instagram.com/jesuspiecehc
https://jesuspiecehc.bandcamp.com
http://www.southernlord.com
http://southernlord.bandcamp.com
http://twitter.com/twatterlord
https://www.facebook.com/SLadmin