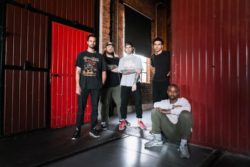 Following the release their monolithic, acclaimed debut LP, Only Self, through Southern Lord in August, Philadelphia's JESUS PIECE is booking new tour dates in support of the album. The band has confirmed that they will travel to Japan for their first tour of the country in December.
JESUS PIECE recorded Only Self at Bricktop Recording Studio in Chicago with Andy Nelson (Weekend Nachos, Like Rats, Dead In The Dirt), after which the album was mastered by Brad Boatright at Audiosiege (Integrity, Nails, Xibalba) and completed with artwork by Dom Pabon.
JESUS PIECE has toured mercilessly alongside Darkest Hour, Comeback Kid, Burn, Knocked Loose, Terror, Vein, Year Of The Knife, and many more across North America and Europe over the past year, and just made their vicious return to This Is Hardcore this summer. Now, the band will make their maiden trip to Asia for a tour of Japan. The Only Self, Live In Japan trek will see the band playing across the chain of islands from December 15th through 19th. Watch for new stateside tour dates to be announced in the weeks ahead as well.
Only Self
is out now on CD, LP, and digital formats through Southern Lord. Find physical order options at the label shop
HERE
and digital at Bandcamp
HERE
, iTunes
HERE
, and through all other digital providers.
JESUS PIECE – Only Self, Live In Japan:
12/15/2018 Garret – Tokyo Shibuya, JP
12/16/2018 Club Zion – Nagoya, JP
12/17/2018 Hokage – Osaka, JP
12/18/2018 Bushbash – Tokyo Koiwa, JP
12/19/2018 Antiknock – Tokyo Shinjuku, JP
JESUS PIECE is quickly developing a reputation as one of the heaviest, most uncompromising acts both on record and on the stage. With the brutalizing grooves of Disembodied, Turmoil, Harm's Way, and labelmates Xibalba, the band incorporates elements of noise, ominous tones, and haunting atmospheres into their dynamic songwriting. With crushing, modern production, the eleven new tracks on their Only Self debut LP place JESUS PIECE among the scene's darkest and heaviest acts and delivers one of the most anxiously-awaited albums of the hardcore/metal underground this year with Only Self, a record which proves itself as one of the year's most vicious releases.
"JESUS PIECE rage at the nexus of hardcore, death metal, industrial, and '90s metalcore. They're part of a new metalcore movement that proves that experimentation and succinct, clobbering riffs can not only coexist, but make for natural partners. On their first full-length, Only Self, they make the case that such should be the new tradition." – Pitchfork
"Through clenched teeth, vocalist Aaron Heard sounds like an unhinged animal, ferociously tearing through drop tuning, d-beats, blasts and exaggerated breakdowns to create the ideal pied piper to lead us all down this path of hate and frustration." – Revolver Magazine
"It's unclear what's in the American water these days (or perhaps the current political tenor makes it quite obvious…), but the United States is producing some of the best hardcore the country ever has. And Philadelphia's JESUS PIECE might as well be the poster boys for the movement." – Kerrang
"They've got a fat, bass-heavy attack that favors pure brutality over complexity. It's the kind of thing that can seem like it exists just so angry kids have an excuse to go to a show and slam their bodies into each other for twenty minutes, but further listens reveal Only Self to be an album that's a little more tasteful than that." – Brooklyn Vegan
"This is some seriously crushing music, seemingly made to induce the most violent mosh pits possible." – Metal Injection
"Only Self proves that the decision to go with Southern Lord was a good one and is a prime example of the ways hardcore bands can benefit from experimenting with their sound. As good as Only Self is, it proves that the band is capable of a lot more than we've seen, and I'm already anticipating where they go next." – New Noise Magazine
"On Only Self, JESUS PIECE expands their sonic palette, incorporating drone and sludge influences in a way only hinted at previously by the "Mantra" interlude on their 2016 promo tape. The band stays true to their foundations as purveyors of violently heavy riffs while showing that they still have new tricks up their sleeve." – No Echo