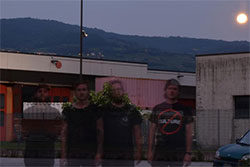 CENTURIES' second LP, The Lights Of This Earth Are Blinding,is due for release in January via Southern Lord Recordings. The band today announces their return to Europe for the fourth time in April and May, alongside Portrayal Of Guilt.
About the new album the band remarks, "The Lights Of This Earth Are Blinding is a dark album that carries a theme of constant self-doubt. It follows how we choose to accept our loses and the reaction to life, as well as the journey we take to make peace with the demons we've made."
Southern Lord will release CENTURIES' The Lights Of This Earth Are Blinding on LP and digital formats on January 26th, 2018. Stand by for additional audio/video samples from the album, preorder links, and more over the weeks ahead.
Stream the new CENTURIES track "Bygones" RIGHT HERE.
CENTURIES w/ Portrayal Of Guilt:
4//28/2018 Klex – Greifswald, DE
4/29/2018 Gothenburg – Sekten, SE
4/30/2018 Firestorm Fest – Stockholm, SE
5/01/2018 TBA – Malmö, SE
5/02/2018 TBA – Copenhagen, DK
5/03/2018 TBA – Hamburg, DE
5/04/2018 Utrecht Fest – Amsterdam, NL
5/05/2018 Privat – Cologne, DE
5/06/2018 Kavka – Antwerp, BE
5/07/2018 La Comedia Michelet – Paris, FR
5/08/2018 TBA – CH/FR
5/09/2018 Juha West – Stuttgart, DE
5/10/2018 TBA – Bielefeld/Weimar, DE
5/11/2018 Miss The Stars Fest – Berlin, DE
Formed in 2008 in South Florida, the current CENTURIES lineup now includes members based in Pittsburgh, Pennsylvania and Nashville, Tennessee, and in the UK from Manchester. Since their 2013 debut Taedium Vitae (Southern Lord), the group have refined their sound into something more focused, and intense, and The Lights Of This Earth Are Blinding surges with ten new tracks of the band's harrowing, metallic, punk/crust-influenced hardcore, delivered with a calculated, very deliberate approach. The album was recorded in February 2017 by Kris Hilbert at Legitimate Business (Catharsis, Torch Runner, The Body), mastered by Brad Boatright at Audiosiege (Integrity, Black Breath, Halshug), and completed with artwork by Phil Trona.
Review copies of The Lights Of This Earth Are Blinding will be issued shortly. For coverage of CENTURIES and all Southern Lord artists, in North/South America contact dave@earsplitcomound.com and in Europe contact lauren@rarelyunable.com.
http://centuriesfl.bandcamp.com
https://www.facebook.com/centuriesfl
http://www.southernlord.com
http://southernlord.bandcamp.com
https://www.facebook.com/SLadmin
http://twitter.com/twatterlord